Sustainability is one of the top five goals for CEOs as we enter 'the next normal', according to this study from McKinsey.
The question is: how can you build a modern workplace that also promotes sustainability?
Thankfully, these aren't incompatible goals. You can have all the brilliant perks of the modern workplace whilst also doing your bit for the environment.
In this blog, we're going explain how you can do just that.
What is sustainable IT?
Sustainable IT, or green IT, is the use and disposal of technology in a way that reduces its impact on the environment. In order to achieve sustainable IT, companies need to create a strategy that will not only address their hardware and software but also educate both staff and customers on best sustainability practices.
Let's take a look at how to do this.
Create a sustainability policy
In our experience, many large businesses end up with hardware that isn't well configured for sustainability, and staff who aren't well-versed in 'green' best practices.
The first step is to build a sustainability policy (or update your existing policy if you already have one). Here, you can outline your commitment to specific standards and policies that will help you reach your green goals.
When building your policy, you'll want to ask questions, such as:
What metrics are we tracking and working to improve upon?
How will we continually level up our sustainability activity?
What steps will we perform to communicate this policy to our staff?
How will we communicate our Sustainable Development Goals (SDG's) to our customers?
Once you've penned the broader strokes of your policy, you can add specific tactics to flesh out your strategy.
Embrace remote working
Did you know that in the UK commuting accounts for 27 percent of transport emissions?
It's a strong argument for businesses to deploy remote work as much as they can.
Inevitably, as your company evolves with the 'new normal', you'll need to find the right balance of hybrid work that suits your goals. However, when making that choice, it's crucial to see the large positive impact on the environment that remote work will have.
Naturally, you'll want to ensure your shift to remote working is efficient, painless, and secure. You can do this by making the most of modern workplace technologies like Virtual Desktop Infrastructure (VDI). This will empower your staff to have access to all the tools they need, securely, and from any device.
If you'd like to see how we helped a client set up Azure Virtual Desktop (AVD) promptly and cost-effectively, you can check out the full story here.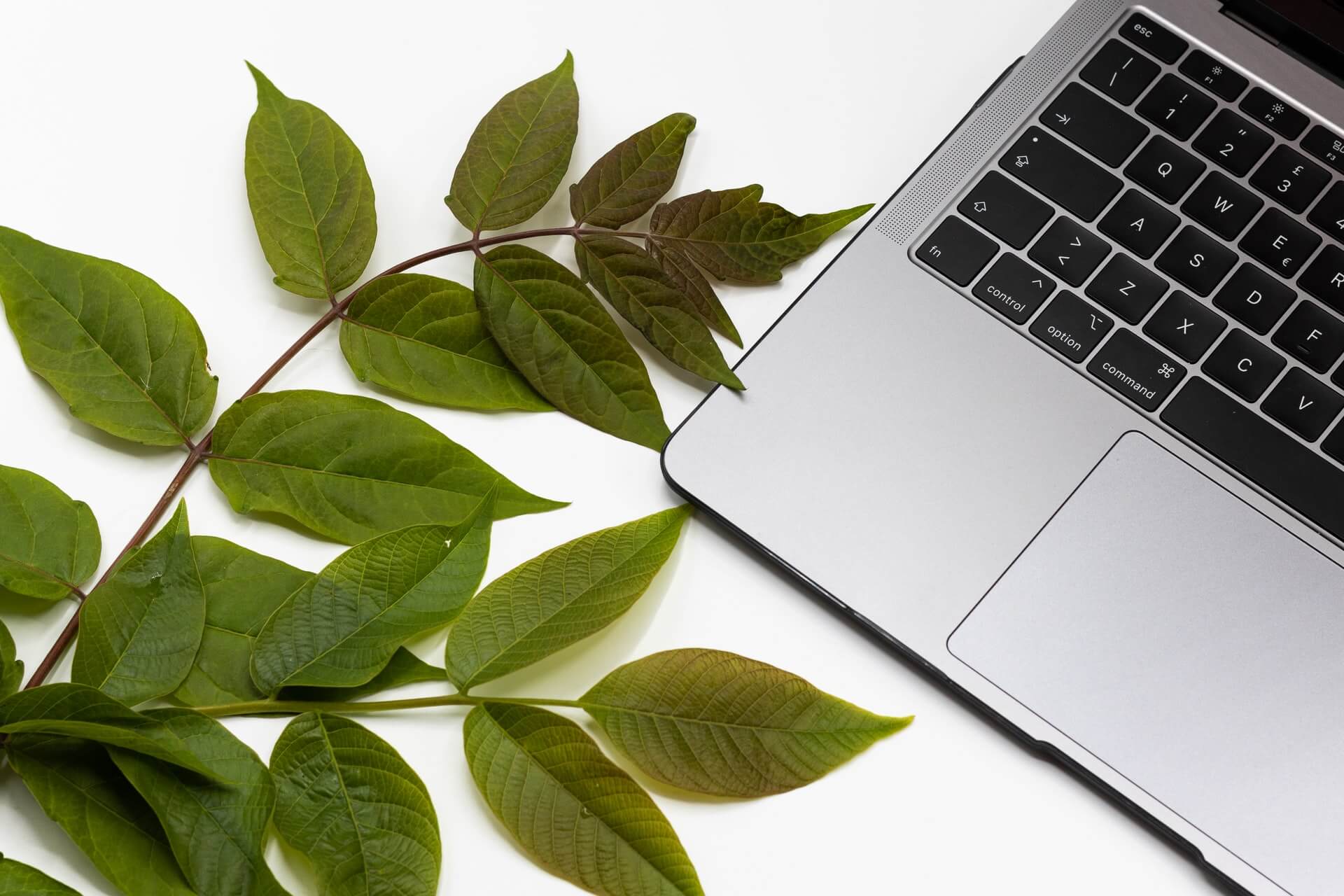 Go to the cloud
Nowadays, you have access to cloud platforms that are built with sustainability in mind. Indeed, if you choose Microsoft Azure, you can rest assured that all your data centres are completely carbon neutral. This makes migrating from on-premise solutions a straightforward way to boost your green credentials.
Impressively, one study found that using the Microsoft Azure platform can be up to 93 percent more energy-efficient and up to 98 percent more carbon-efficient than on-premise alternatives.
The future looks even brighter when you consider that Azure is committed to 100 percent renewable energy by 2025 and zero-waste certification by 2030. So, why not get in on the ground floor knowing your platform will get even greener over time?
With many organisations committed to reducing their carbon footprint (a third of the UK's biggest companies have done so already), migrating off and decommissioning data centres is a clear route to make good on such promises.
Upgrade your tech
To continue your drive to a sustainable workplace, you'll want to make smart choices around all aspects of your technology.
Here's a list of improvements you'll want to consider implementing:
Printing software. Paper production has a major negative impact on the environment. So, why not use software to measure the impact of your printing?
Proximity sensors. This technology automatically turns off devices when someone isn't nearby. It's a great way to stop hardware from running needlessly.
Thin clients. These smaller workstations use significantly less energy than standard computers. And, unless you need a lot of computing power, will do the job for most businesses.
Smart meters. You might have these at your home already. Well, they're critical for your workplace too as they'll give you visibility into your energy usage over time.
Eco mode. Many devices (and operating systems, like Windows) have eco modes. If possible, push out changes to company laptops so they automatically go into eco mode when not in use.
Armed with these improvements, you're better placed to boost the sustainability of your business and upgrade your workplace. But why take the journey alone?
Be the seed of change with HTG
'Right now, we are facing a man-made disaster of global scale.' - David Attenborough, broadcaster and naturalist.
We've covered many of the things you'll want to address to reduce your impact on the environment. By taking key steps, such as migrating your workloads to sustainable cloud platforms like Azure, you'll be well on your way.
That said, it can be time-consuming to build a plan and implement these changes yourself.
Instead, why not take advantage of our assessment as a service for Microsoft, as well as our support for building a better model for your IT resourcing?
We'll talk you through how you can move to the cloud as part of your green agenda. We'll also help highlight the most important tools you'll need to boost sustainability, all while improving your security too.
If you'd like to talk with one of our experts and explore how HTG can empower you to reach your goals, reach out today for a chat with our team.