So, you may already be aware of the official launch last week of Windows 365 but what is it?
Windows 365 is effectively a desktop computer running in the cloud, Desktop-as-a-service (DaaS). It is built on the underlying Azure Virtual Desktop (AVD) infrastructure. Effectively you can open your browser, fill in a few details and have your own desktop in the cloud.
We have been looking over this the last week and just wanted to bring together a post to reflect on what we have already discovered.
There is several pros and cons that we can see as it stands now:
Windows 365
Pros
Cost-effective, fixed price - so you know exactly how much you are paying or do we? Although the pricing is fixed, bandwidth is limited per month on the business version depending on the option you go for starting with 12GB outbound data up to 70GB of outbound data for the higher end option. Also, if you are running the enterprise version of W365, you manage the VNET (Virtual Networking) so all associated costs of this are charged additionally to the 'fixed price'.
The pricing model is an operational-expenditure with no lengthy contracts – however you still need a physical device to connect to your cloud PC. The good news is this is platform agnostic and will run on any standard web browser with internet access.
Cons
Not cost effective for long term use vs a physical device, for example looking at a Microsoft 13.5" Surface Laptop 4 costing around £999 (Ryzen5,8GB/256GB), over 3 years the Windows365 equivalent specification is at around £1650. The equivalent Windows365 is limited to 2vCPU's.
There are no GPU enabled machines currently.
There is no native backup built in for your device, like purchasing your own physical device. However, documents etc will be stored in OneDrive although no system settings, apps or app settings will be stored.
There is a lot of overhead as users will have to manage their own apps and we are not certain if all apps will work, there may be several apps that you may use that simply with not work in a cloud pc environment.
If you have any issues, you are reliant on Microsoft support to resolve these issues and from my reading, I have not found any information around time frames for Microsoft support.
Azure Virtual Desktop
Pros
Enterprise ready, for management including backups.
You can scale your devices on a consumption base rather than a fixed cost. With big savings being made when a device is turned off.
GPU devices are already available for any of them tasks that rely heavily on GPU processing.
Cons
Complex to setup and manage compared to W365.
There is more management needed around cost.
So,

Windows 365 has 2 main offerings Business vs Enterprise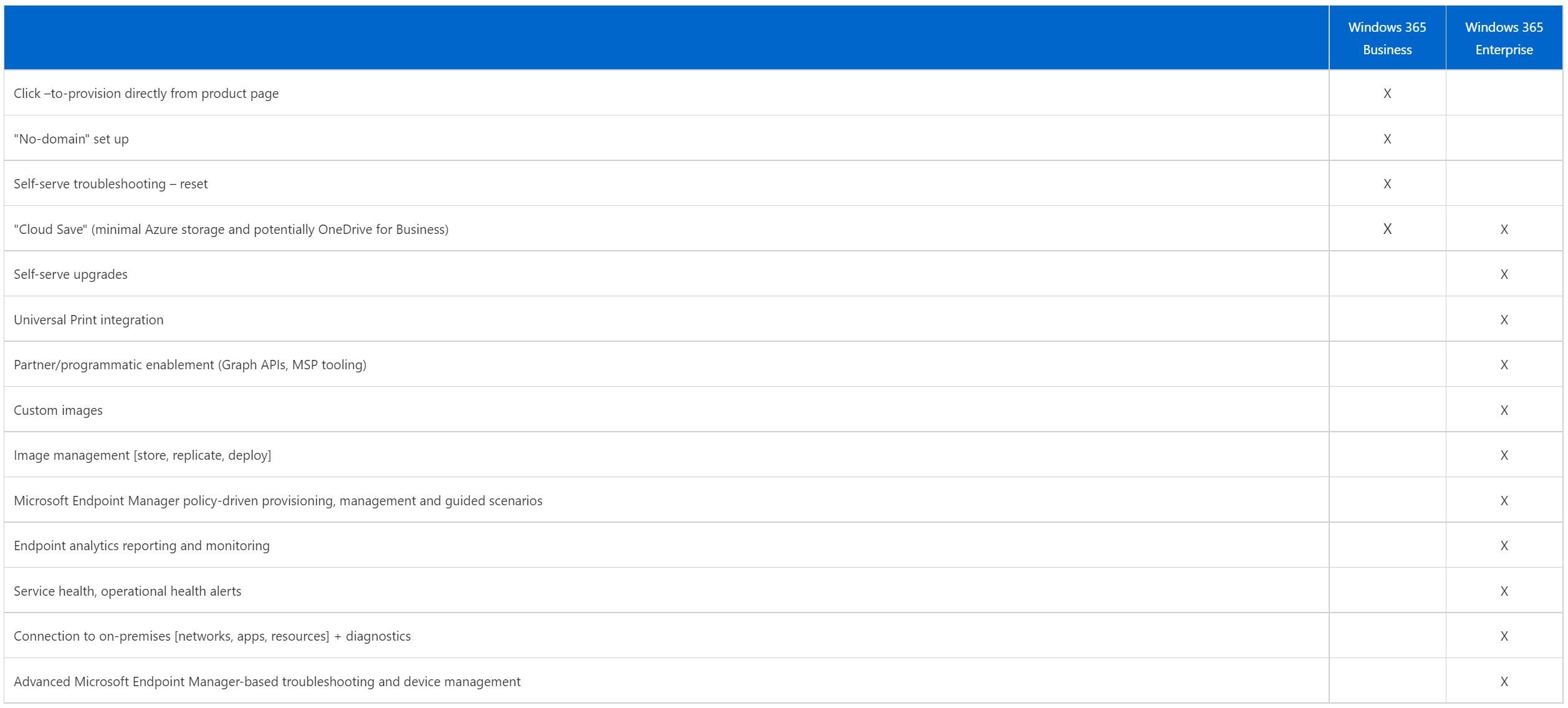 (Image taken from Microsoft blog)
As you can see from the image above there are some big differences between the 2 offerings. W365 business gives you a very simple platform to use whereas W365 enterprise gives you more control and management on your company's virtual computers.
Another thinking point is between the number of users that will be using the platform as W365 business supports up to 300 users.
Use case scenarios
Here is an example of some use case scenarios (taken from the Microsoft community post).

A great use case scenario could be a user is in work, working on a project on their virtual desktop. That user needs to leave the office but agrees to complete the work when they get home. The user connects to their cloud pc from their own personal laptop, the user logs in and is exactly at the same point that they left it in a secure environment.
Several other example could be used for seasonal workers or temporary workers who are using their own device.
How to decide between Windows 365 & Azure Virtual Desktop
Our friends over at nerdio have produced some great visual information around Windows 365, I feel this one is very useful to help answer a few of them decision questions, when deciding between W365 & AVD.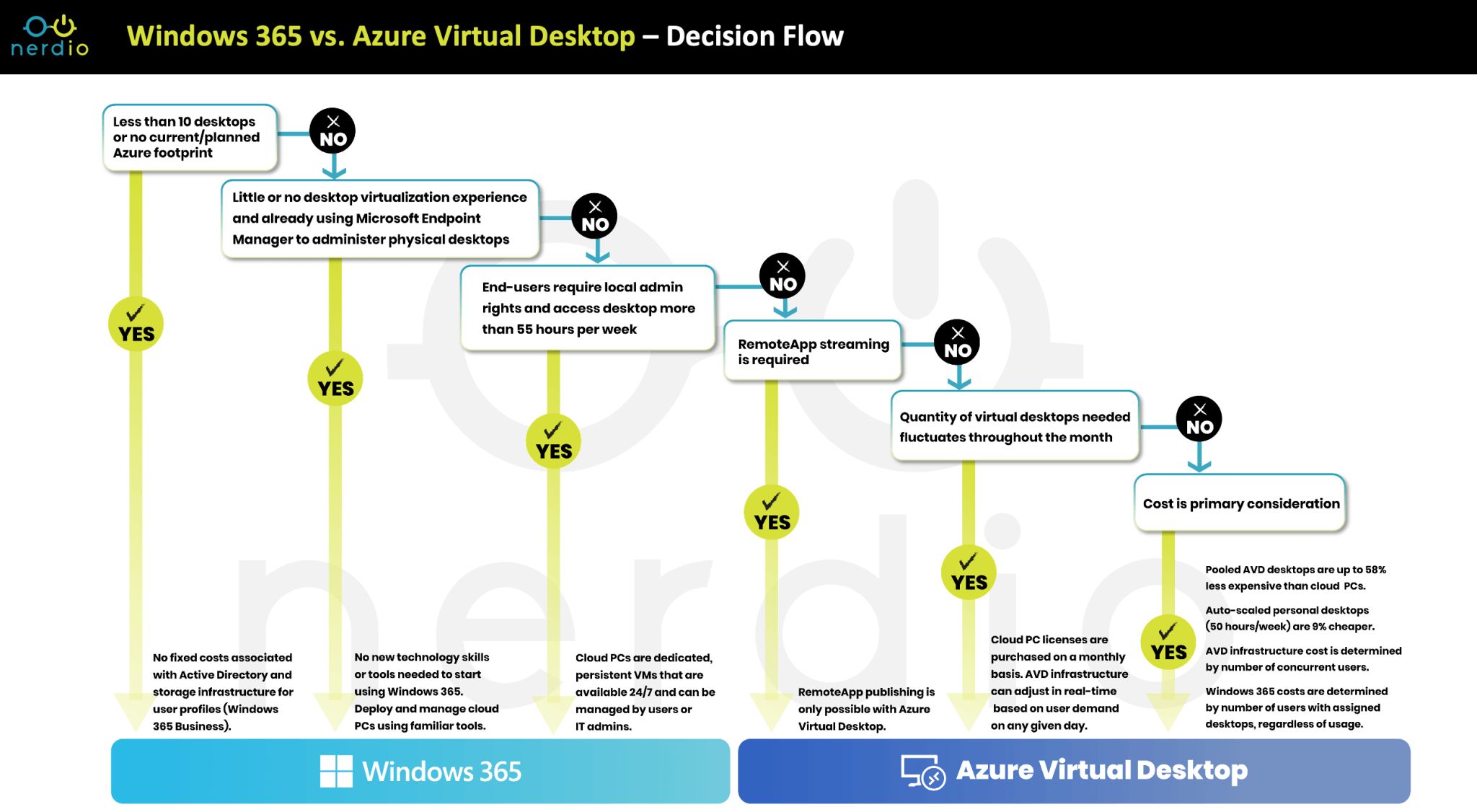 There are still some questions, and I am sure more will come as we further test Windows365, one standout now is there different pricing for the Education and Charity sector?
Testing
In our test we chose to use the option of 2vCPU/8GB RAM/128GB. In our opinion this model really struggled, as you can see from the screenshot below the CPU is maxed out all the time. Running only outlook, teams and 1 tab within edge (this is not the lowest specification to choose from).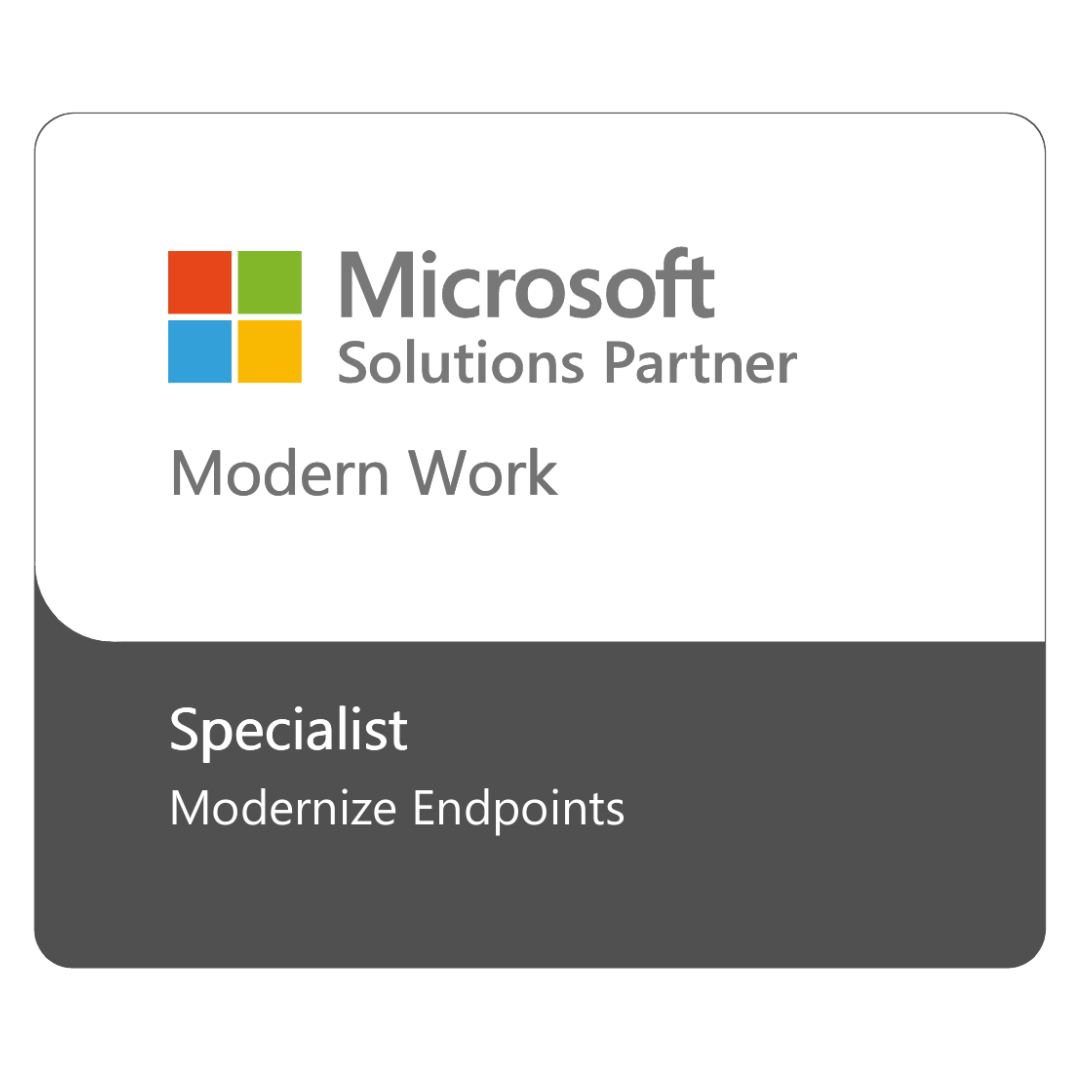 Another thing to note from our testing is the devices are not running SSD's and using the older sATA drives, which is very disappointing.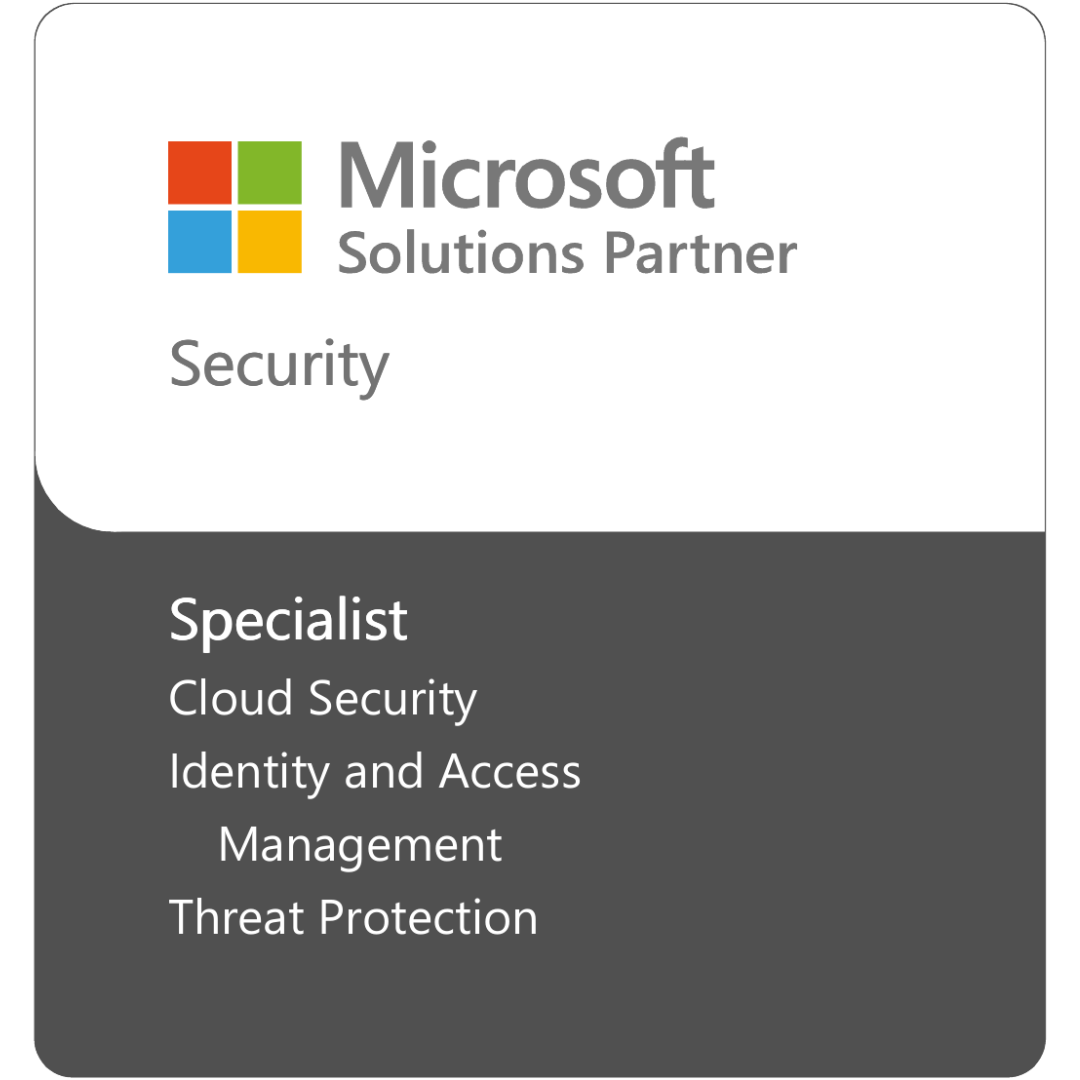 In addition to the poor performance that we encountered we also experienced an issue were the devices would enrol fine into Microsoft Endpoint Manager, be fully compliant and within less than 10 minutes would change to 'Not Compliant'. This is something of concern if there are certain policies your company needs to adhere to.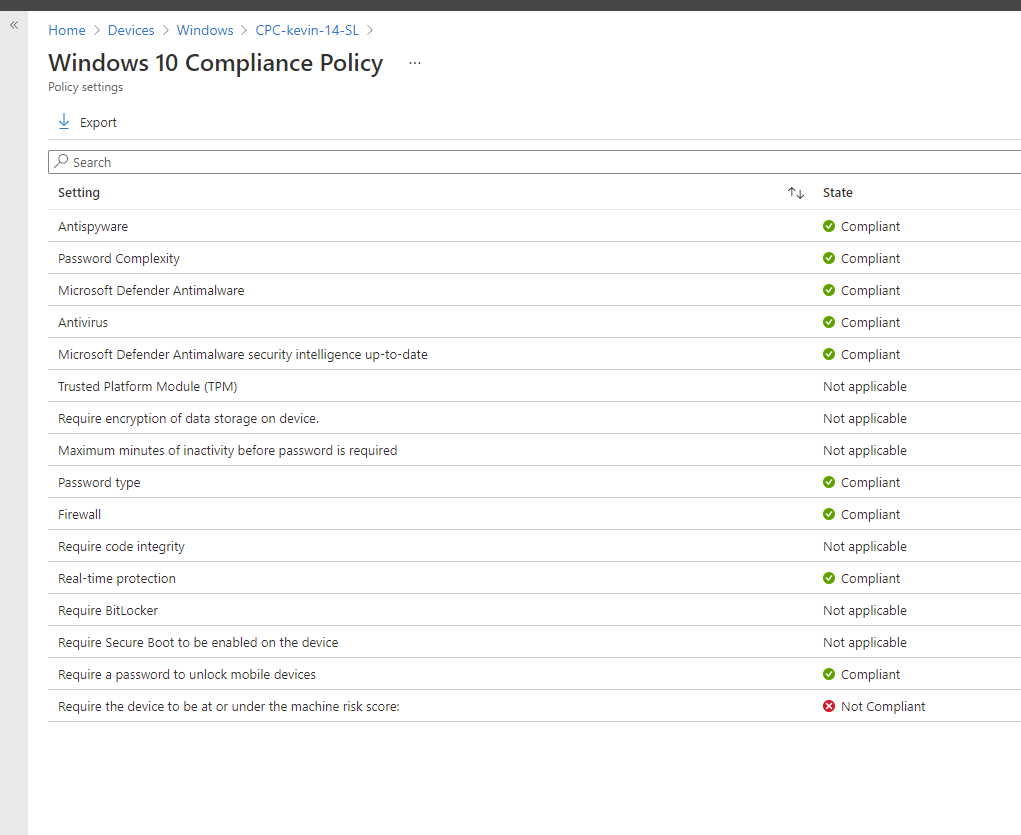 Devices do not seem to have a Trusted Platform Module (TPM) attached. Which is a concern around data security & encryption, whether Microsoft cover this in the background remains to be seen. This may also be an issue with the upcoming Windows 11 as according to reports a TPM is required.
Another concern we have is users are all given full administrator rights to their device, do Microsoft have something in place to stop malicious software being installed, deliberately or not? This would be completely possible and as that machine is running in your tenant this could be a security risk affecting your whole business.
Windows 365 is still in very early days and as such many more features will be implemented, I'm sure. So as this new service grows, we will continue to look at the evolution and hopefully many of our concerns will be ironed out. So, as we continue to explore Windows365 we will look to publish more blog posts around the service.
In the meantime, if you have any questions around implementing Windows365, Office365, Azure Virtual Desktop or moving your infrastructure to the cloud and want to see the benefits cloud computing can bring to your business then please reach out to ourselves and we will be more than happy to help, reach out for a chat today.