We are only two months into 2022 and HTG are already making the most of it!
We have recently welcomed two additional members to HTG to further strengthen our already talented team.
Stephen Third (Cloud Solution Architect) and Chris Hopkinson (Technical Service Engineer) join HTG to support us in our journey to become industry leaders and provide the best outcomes possible for our customers.
Meet our new members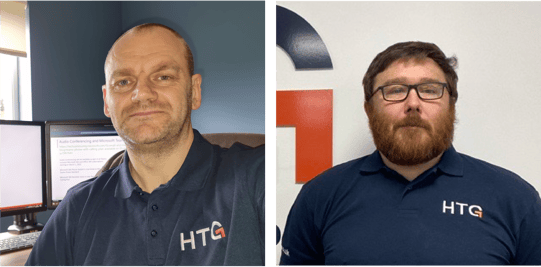 "A mutual friend suggested I reach out to Kevin when it became time to look for a new career opportunity. From the first conversation with Kevin and Alan, it was obvious to me that their vision for moving the company forward in the Microsoft space was something I would love to be a part of.

Since joining HTG I have felt there is a real family feel to the business and it is a great group of people to work with.

We are targeting several Microsoft specialisms, over and above our existing Gold competencies and being a part of that is something I am looking forward to contributing too." - Stephen Third (Left Image)

"I was looking for a change of industry, HTG were willing to look beyond what I had done before and offered me an opportunity based on what I might be capable of.

I enjoy learning and putting new knowledge into practise, so I'm keen to get involved in something new; whatever that might be." Chris Hopkinson (Right Image)
With the new additions to our team and the constant search for new talent, we are expanding rapidly, making HTG the perfect environment for our staff to thrive and develop. We also hope to provide more job opportunities in South Tyneside, as we believe in supporting local talent and our local community.
Our goal? To constantly be improving our capability to provide our clients with real, measurable change to their IT. We want to always achieve game-changing business outcomes for our customers, and the way to do that is with the perfect blend of the best team and industry-leading technology.
Sound good?
Would you like to join a compassionate, authentic company that fully supports you to do your best work? Are you committed to empowering others, in turn?
Here's what we want from you. Take risks. Speak up. Trust that, as an HTG team member, you have a unique, valued voice and the space to make this work your own. We're looking for the change-makers, the hard grafters and the willing learners. Are you the right person for the job? Apply today!