Background
Following a merger between Circle Housing and Affinity Sutton, Clarion Housing Group was born and now comprises the country's largest housing association, Clarion Housing, with some 125,000 homes nationwide. Following William Sutton's vision of delivering good quality homes for the people who need them the most, the Group's objective is to build 50,000 homes over ten years. The sheer scale of Clarion not only puts them in a unique position to achieve their ambitions but enables them to think afresh about how such an organisation can create opportunities that change people's lives.
What Clarion Housing Group's requirements were:
Clarion Housing Group was looking to embark on a large migration process and needed to ensure the correct infrastructure was in place before implementing. With many discussions held internally over an 18-month period reference the project, Clarion approached technology specialists HTG in March 2019. The project was split into two distinct phases. Phase 1 was to migrate all users whose Active Directory (AD) presence was currently on the legacy domain over to the newly branded strategic domain and provide them with up to date, secure hardware. Phase 2 was to configure the remaining accounts that already resided on the strategic domain and provide them with the relevant hardware aligned to their role.
With the project being split into those two distinct phases, HTG was tasked with initially tailoring the solution to ensure users could successfully access the relevant parts of the system whilst minimising effort and therefore risk, ahead of phase 2. Essentially, phase one would enable Clarion's users to access the CRM and ERP systems using Windows 10.
Phase 1 of 'Project Unity' therefore involved HTG carrying out a Clarion build and deployment across multiple sites of 480 laptops, over 500 thin clients (10Zig's) and 230 iPads. HTG's objective is always to minimise the compromises in user experience, which in this instance, would affect users outside of the contact centre, finance and housing officer functions of the organisation.
With the total number of users amounting to 4167, phase one of the 6-month project, which is now live, was to involve the migration of 1877 users. The remaining 2290 users will be migrated as part of the wider infrastructure integration in phase 2.
HTG's services for Project Unity will include the provision of standard processes (such as joiner, leaver and mover scenarios, for example), training, plus early adopter and post migration support.
Benefits to Clarion
Project Unity will ultimately bring stability across a solid platform from which Clarion will gain the enablement to manage and ability to exert an element of control. In terms of user efficiency gained through the provision of new ways of working, Project Unity will ultimately lead (in the long term) to significant cost savings for Clarion.
Statistics to date around log on times for migrated users are very impressive. The average logon prior to migration was nearly 30 seconds (28.2). HTG has now improved efficiency by 50% at 13.2 seconds. With 4,000 logons happening every day at a saving of around 15 seconds per logon, Clarion recovers 16.66 hours of lost work time per day. That equates to 180.5 days of effort currently being lost over a year.
Average Session Latency pre-migration was 108.6ms, post-migration stands at 54ms – again another 50% saving.
Commenting on HTG's involvement, Graham Wight, CEO of HTG said: "We are delighted that Clarion approached HTG to initially provide advice regarding their ICT Estate to support the rollout of a new CRM and ERP system, as well as supporting a Windows 10 deployment as part of their Project Unity. To then be asked to take responsibility for the delivery of Project Unity is testament to the credibility and professionalism of HTG as a company. We are extremely pleased to be working on behalf of the biggest Housing Group within the UK and look forward to a long-standing relationship with them."
Sam Brown, Head of IT Operations & Infrastructure of Clarion continued: "HTG has proven to be a valuable and trusted partner in this large project delivery. They were engaged relatively late in the day but quickly embedded themselves within the team and brought the focus and structure needed to deliver on time. Key to this was the way they quickly understood the organisation and culture they were working within, this ultimately led to a very successful delivery in the eyes of the wider business."
HTG's Modern Workspace Solutions
As a leading global IT solutions company providing disruptive digital technologies and best in class products, HTG has the capability to become your trusted advisor. If you are looking to move your organisation to a much faster and more dynamic environment incorporating modern workspace solutions, you too can experience such impressive efficiency benefits as our customers.
See our Clarion Case Study Featured in Housing Technology Magazine.
Click here to read our feature.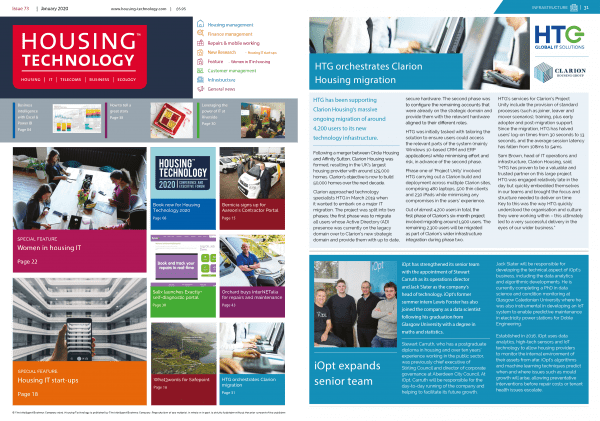 © Copyright 2020 The Intelligent Business Company, publisher of Housing Technology magazine.